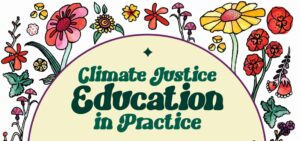 Do you want to learn about climate change? Climate change is complex and sometimes confusing. The climate crisis is one of the biggest challenges of our time. 
We provide climate justice education courses through art, drama, craft, sustainable fashion, community gardening, bike maintenance, and through lots of information workshops. Join one today! You can learn about how to take climate action in your local community.
Climate Justice is about knowing that the people who are hardest hit by climate change are the least responsible and that we can only solve the problem by making the world fairer for everyone.
City of Dublin ETB Adult Education Service commits to being a lead educator in developing public awareness on climate change and just transitions in the City of Dublin.
The Climate Justice Education in Practice Tutor Handbook was published by City of Dublin ETB's Adult Education Service in 2023.  This comprehensive handbook provides a wide range of teaching and learning resources, using development education methodologies. It includes a wide range of suggested participatory activities, learner worksheets and handouts, and tutor guiding notes. It is targeted at tutors teaching at Level 3 on the NFQ but many of the activities will be of use for Level 2 – 4 learner groups too. 
The Climate Justice Education in Practice Tutor Handbook was written by Sian Cowman, PhD Researcher with Melíosa Bracken, Community Education Facilitator. 
The Handbook is split into 3 chapters:
Chapter 1 is an introduction to the handbook. It outlines the teaching and learning approach, including climate justice education principles and tackles how we might go about teaching 'difficult knowledge'. It suggest an active hope and empowering approach.
Chapter 2 is about understanding Climate Change. It breaks down some of the key terminology about climate change and explores the causes and consequences of climate change.
Chapter 3 introduces us to Climate Justice. It identifies what we mean when we talk about Climate Justice and informs us about Just Transition and actions we can take for Climate Justice.