Dublin North Central and Ballymun

Dublin 5, 9, 11, 13 & 17
Our three main centres are in Ballymun, Coolock and Kilbarrack but we also have classes in many places in the community.
All classes are free of charge.
You can contact us to find out more about courses in your area. 
Spelling, Reading and Writing
Maths
Digital and Computer Skills
Art, crafts, drama and creative writing
Leisure and well-being courses
Climate Justice Education programmes
English Language
Preparation for College
Adult Education Guidance
QQI Programmes Levels 1 to 4
Click here for contact details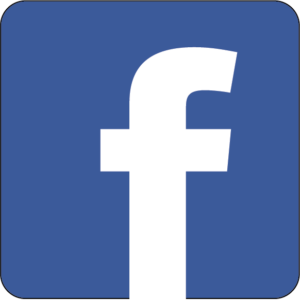 Tel: (01) 862 3834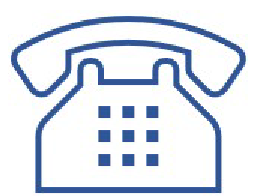 Click on the Image to watch the video about our service
Dublin North Central and Ballymun Courses
Reading, Writing, Spelling and Maths
Digital Skills & Technology
Community Education
English Language Classes
Adult Education Guidance Service
Workplace Education
News
Reading, Writing, Spelling and Maths
Reading, Writing, Spelling, and Maths
List of new classes September 2023
Scroll down to see courses in Coolock/Darandale and Ballymun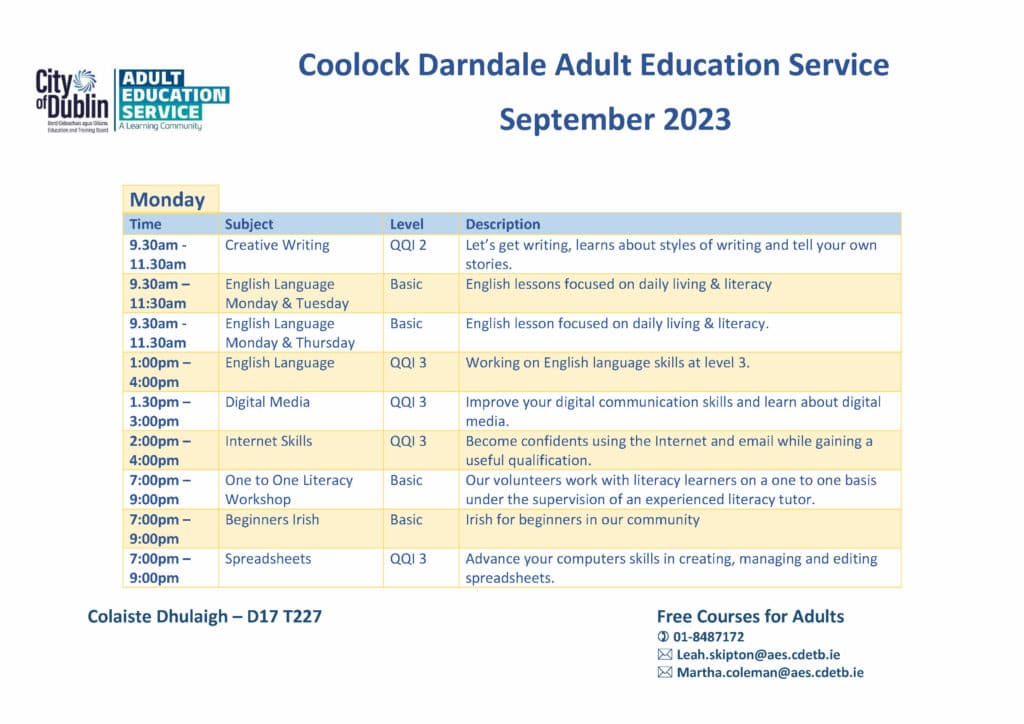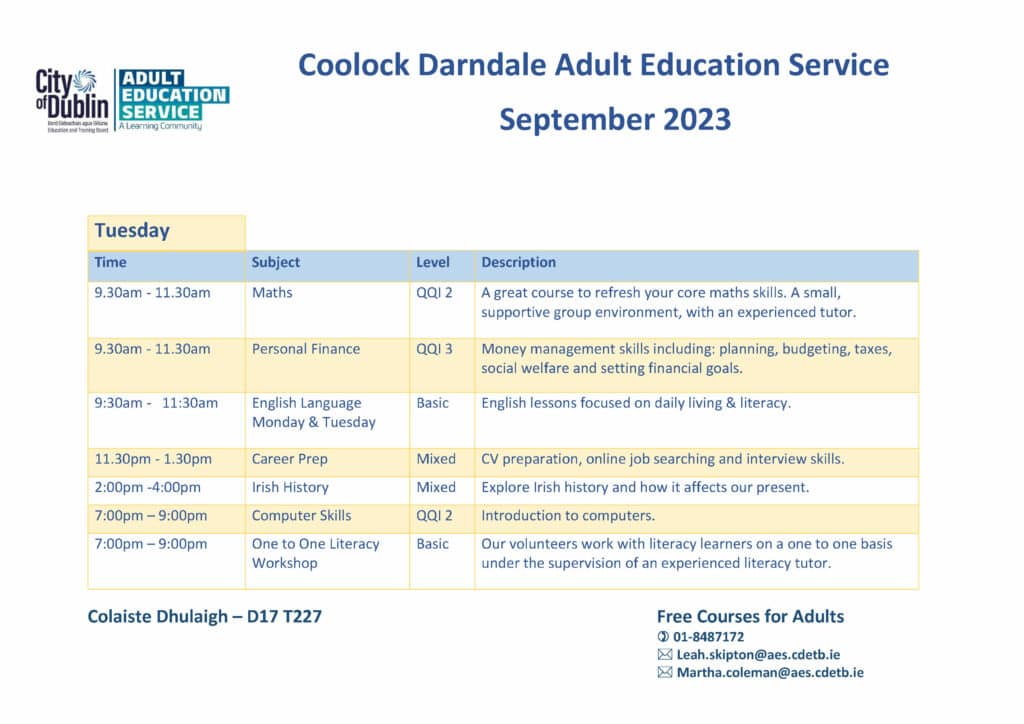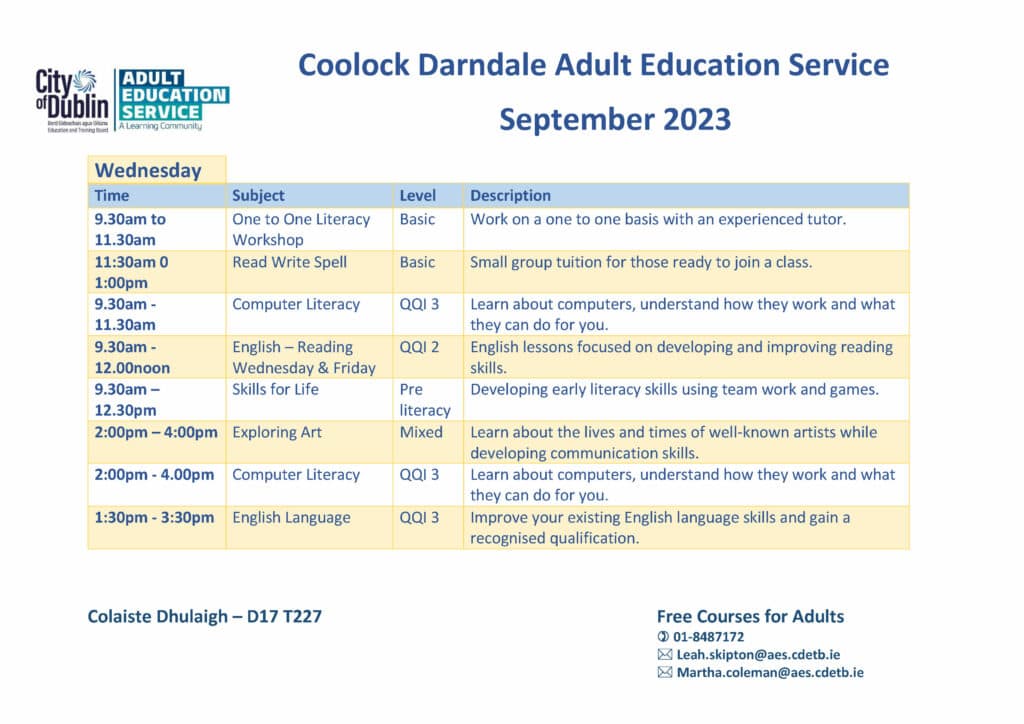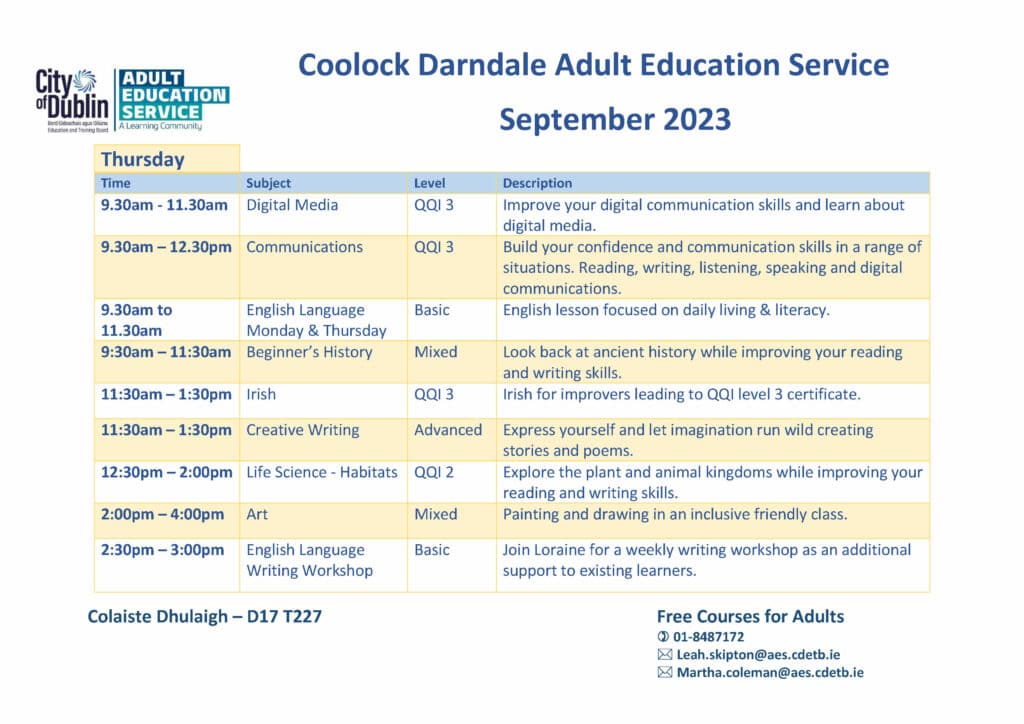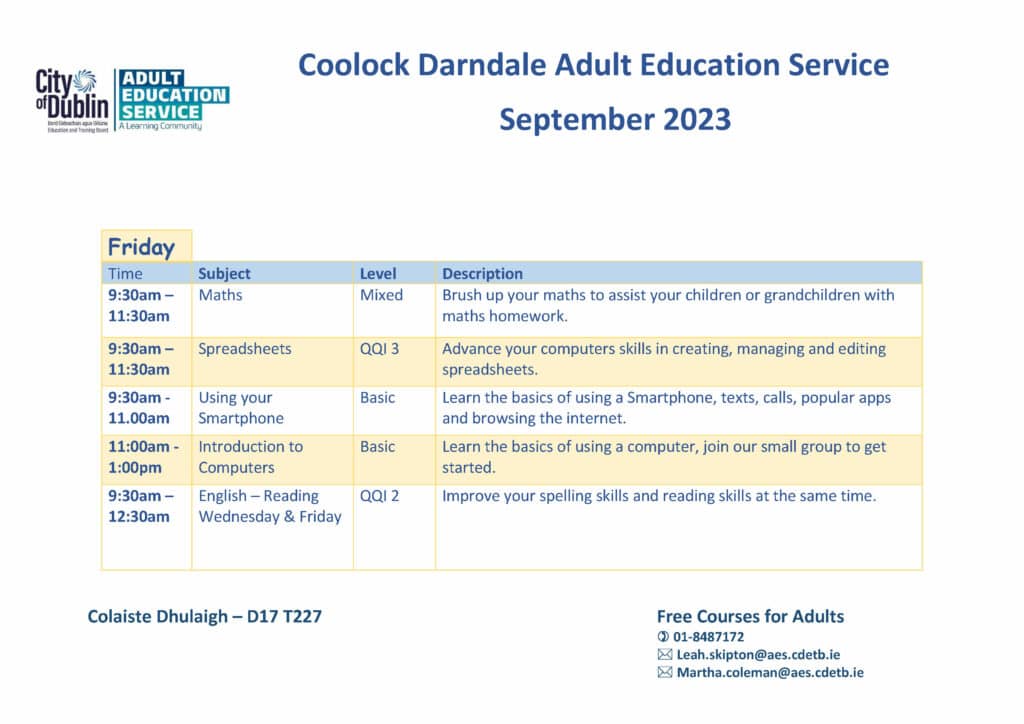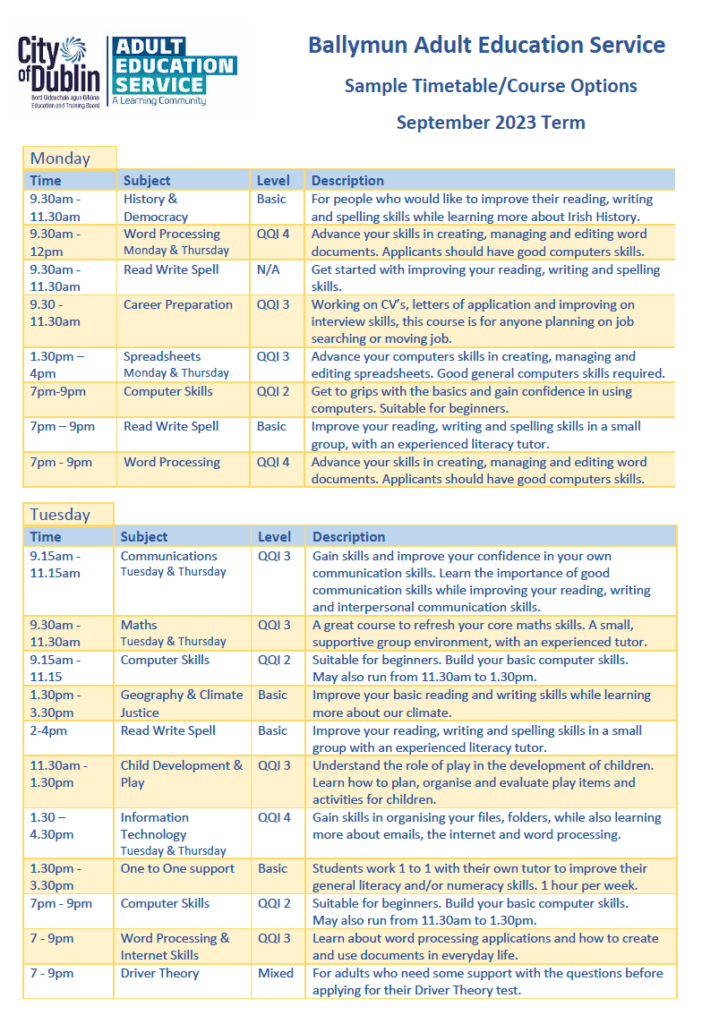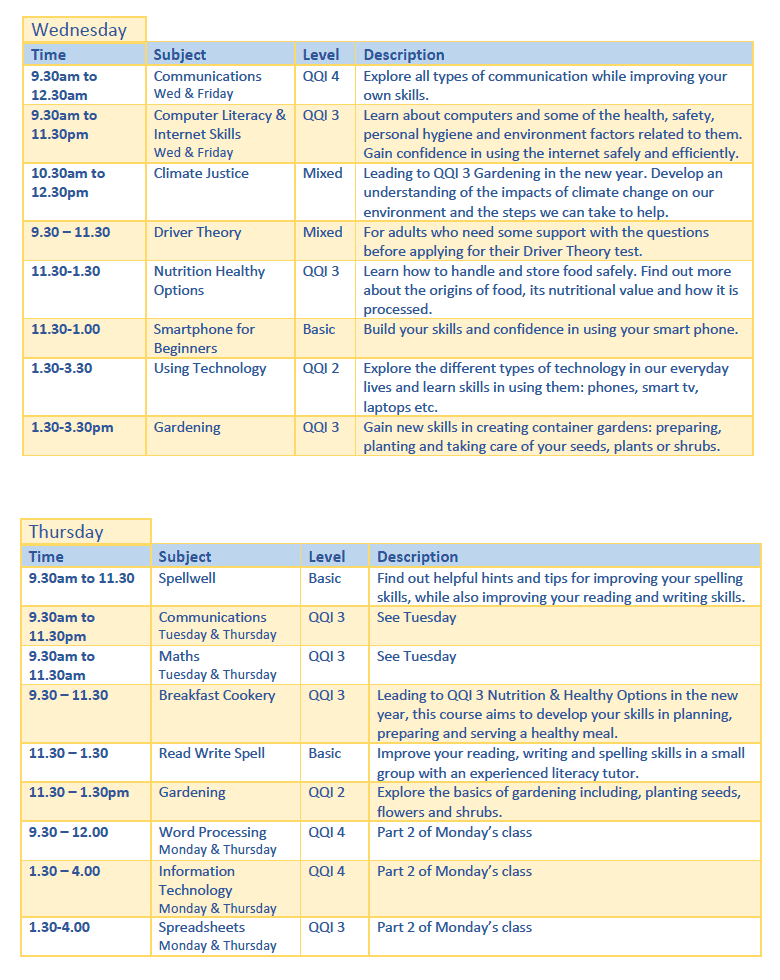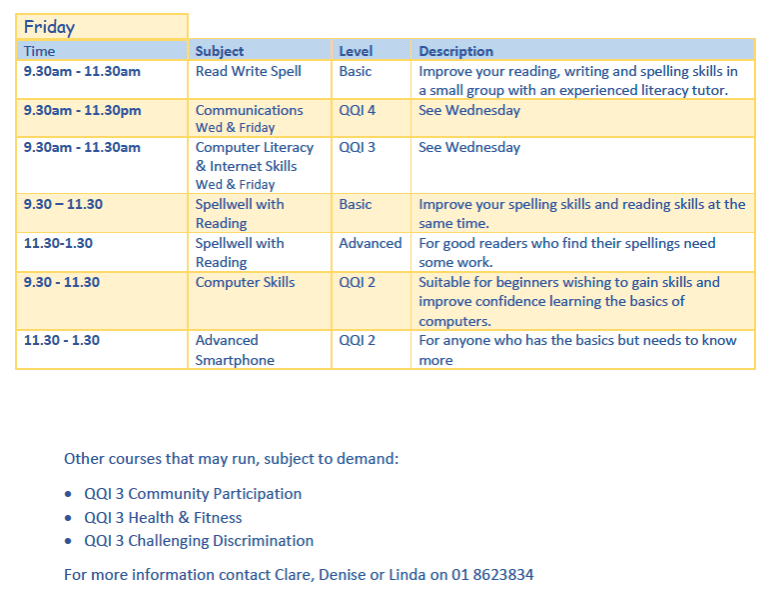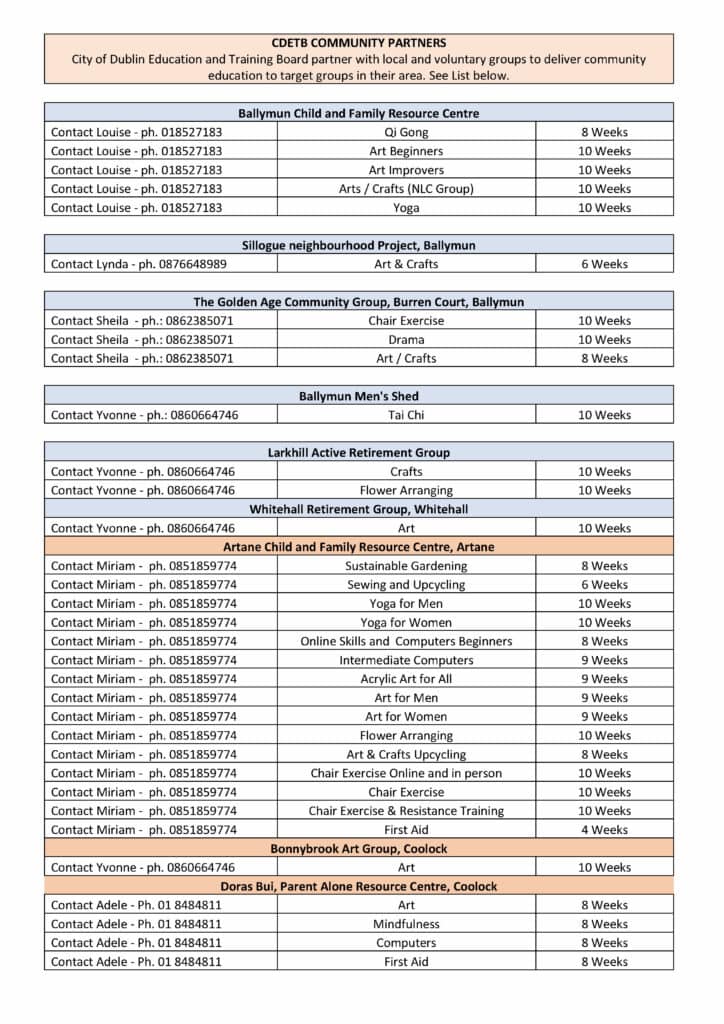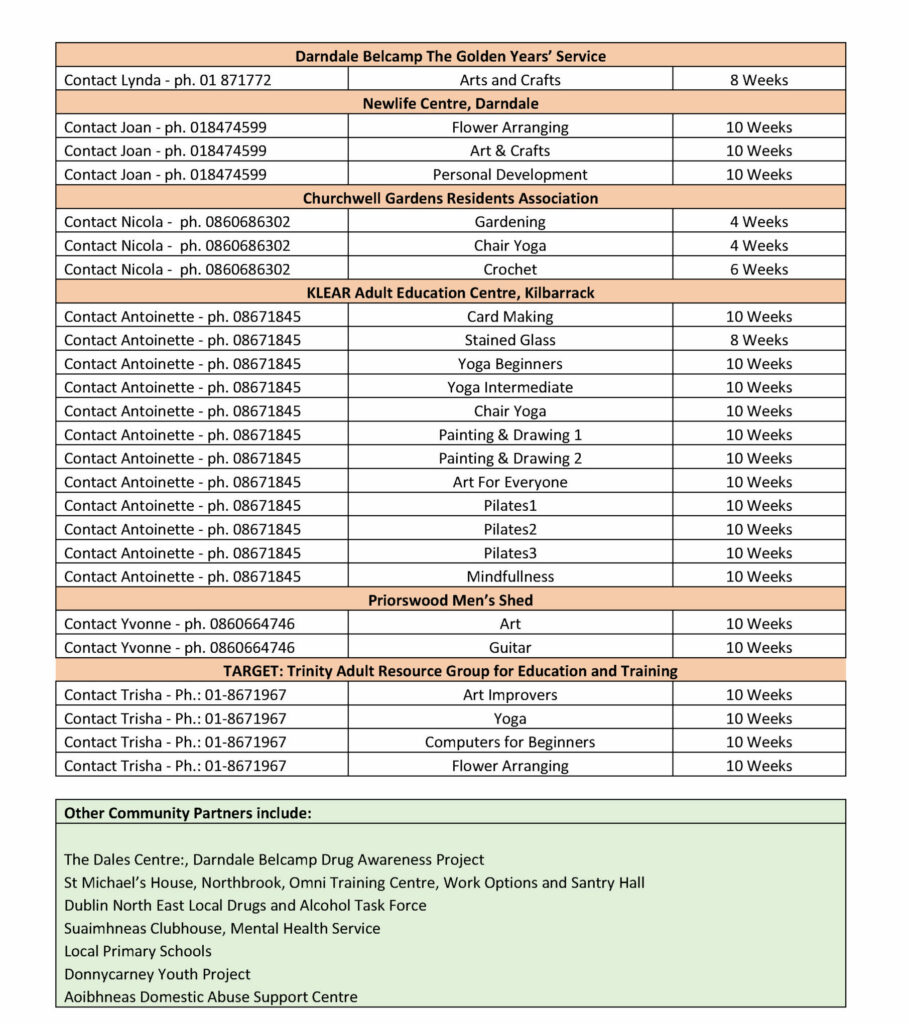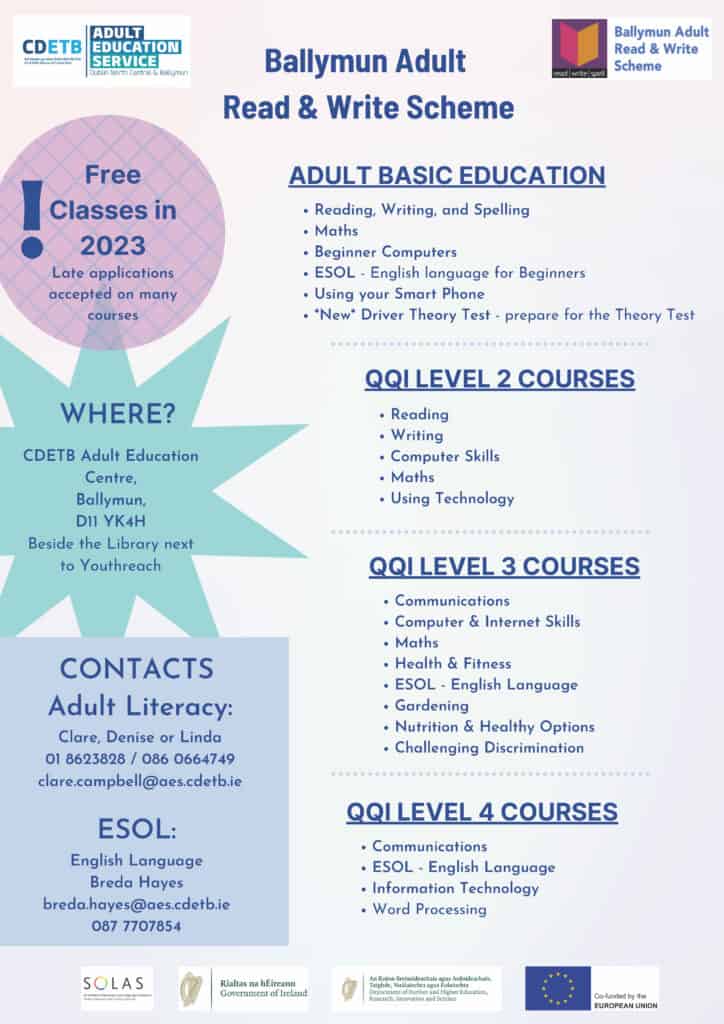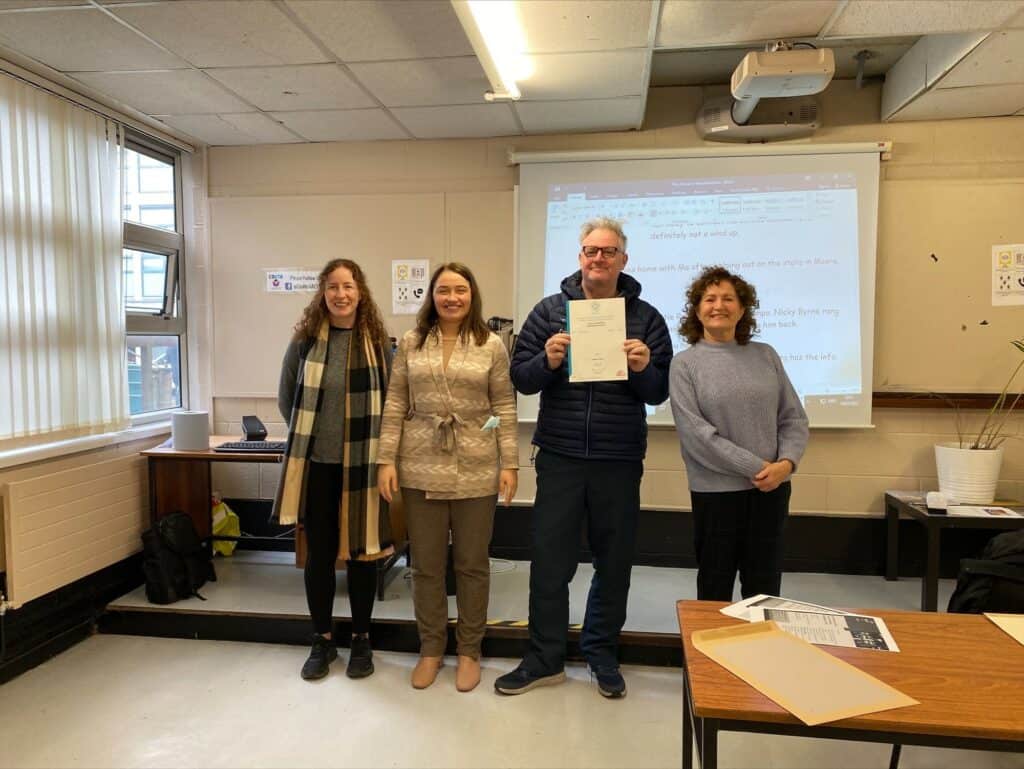 We provide free classes for people who want to improve their reading, writing, spelling, maths or digital and computer skills.
The service is aimed at adults who want to :-
Return to education
Brush up on reading, writing, maths and digital skills
Up-skill or re-skill for work
Gain confidence and work towards a recognised certificate
Develop the English language skills needed to live, work and study in Ireland

What level are the classes?
You can learn at a level that suits you, whether you are a complete beginner or just want to brush up. If you wish, you can gain a certificate.
You can gain certification in modules from QQI levels 2 to 4.
We also run lots of non-accredited classes where you can learn for fun with like-minded people.
For classes in Ballymun, please contact:
Clare Campbell
Email: [email protected]

01 8622402
For classes in Coolock, please contact:
Leah Skipton
Email: [email protected]

01 8487172
See our list of Coolock courses
For classes in Kilbarrack, please contact:
Sian Crowley
Email: [email protected]

01 867 1845
Digital Skills & Technology
Community Education
English Language Classes
Adult Education Guidance Service
Workplace Education
News
Dublin North Central and Ballymun Courses
Hear what our students say
It was a few years ago when I made my mind up on going back to education. It is one way to meet more people from the local area and from different areas too. I get great support from the tutors and all the other learners give one another support.
Because I left school early before doing any school exams I felt a massive inferiority complex about writing. But my tutor Christine Smith has changed all that and encouraged and made me think about writing. When Christine entered one of my stories for a competition with DCU University I was surprised and honored. But nothing prepared me for the shock of winning a prize for my story.

Christine has opened a world so wide for my mind, eyes and ears to connect and write about. So thank you and the service for allowing me. Join Christine's amazing writing class.
Don't let embarrassment or shyness hold you back. The courses cater for all ages, so use it to your advantage. I got so much from these courses, I have no regrets. I would encourage anyone that's looking for something to do to go along to your local Adult Education Service and talk to someone. You will have no regrets, and you will meet lots of new friends! Believe me you will love it, it was the best move I've made in my life.
When I signed up for the QQI Level 5 Human Growth and Development course, II was really worried about whether I'd be able to handle it.

The course was excellent, both in terms of what we learned and the support available. It really helped me to build up confidence in my educational abilities.

Through the centre, I found out about the Access Foundation Programme in TU Dublin, to help prepare me to do a degree course. It was hard work at times, but I definitely felt more prepared for it having completed the Human Growth and Development course, which had helped get me into the habit of studying and writing essays.

I was offered a place on the Social Work degree course in Trinity College for September. A few years ago, I couldn't have even imagined that I'd be capable of this.
The adult literacy service is brilliant for building confidence and self esteem. It was great especially when the kids were small to get me out of the house and able to mix with other people. The classes are a great laugh with lovely people and that makes learning a lot easier
I love the class I'm doing and I love the girls I'm doing it with because I can engage my brain again. I left school 20 odd years ago and I've become a mammy since then. Now, I'm not just a mammy at home but I'm back thinking again!
I would recommend anyone that wants to, or feels the need, to go to adult education. It's not like the old regime, where there was a lot of violence, this is a different scenario.
It's therapy, you forget all the hurts you have as a child. There is a beautiful grounding for you to learn and you will learn.
Going back to adult education is better than winning the lottery, I feel I'm a real person now, I've a lot to offer my children, I can do their homework with them, I don't say 'I don't know' anymore.
Dublin North Central and Ballymun Courses